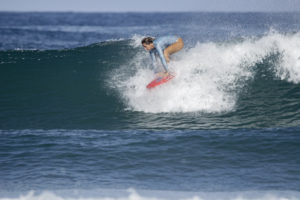 http://avellanassurfphotos.com/
GIULIA MANFRINI IS A SURF INSTRUCTOR AND THIS JOB ALLOW HER TO TRAVEL AROUND THE GLOBE AND CHASE THE BEST WAVES.
Alejandro:  Where you from?
Giulia:  I AM FROM ITALY, TORINO. I COME FROM THE MOUNTAINS,
THE ALPS. WEIRD FOR A SURFER HEY!
Alejandro:  What you do for a living?
Giulia:  I GRADUATED IN LAW AT UNIVERSITY AND SPEND LOTS OF YEARS COACHING SNOWBOARD AND, AFTER FALLING IN lOVE WITH SURFING, I HAVE DIRECTED MY LIFE TO THE BEACH. NOW I AM SURF INSTRUCTOR AND THIS JOB ALLOW ME TO TRAVEL AROUND THE GLOBE AND CHASE THE BEST WAVES.
Alejandro:  Tell us about your top moment.
Giulia:  THE FIRST TIME I SURFED AROUND BYRON BAY IN AUSTRALIA. I JUST CAUGHT UP WITH MY MATES AND WE DECIDED GO SURFING ON A POINT CLOSE TO BALLINA. AS
SOON AS WE PADDLED IN, WE SAW A BIG FIN 50 MT FROM US. AUSSIES' SHARKS LEGENDS ARE NOT LEGENDS! IT WAS THERE! WE KEPT SURFING CAUSE WAVES WERE REALLY
GOOD BUT AT SOME POINT WE DIDN'T SAW THE SHARK ANYMORE AND AFTER A WHILE IT WAS COMING CLOSER AND CLOSER TO US..WE PADDLED OUT VERY VERY FAST,
BUT THEN WE WANTED TO KEEP SURFING SO WE MOVED TO THE CLOSE BEACH BREAK… 15 DOLPHINS CAME AND SURFED WITH US FOR TWO HOURS! IT WAS SO AMAZING!
THEY WERE KIND OF PROTECTING US FROM THE SHARKAND PATROLLING  THE AREA! AN EXPERIENCE I WILL NEVER FORGET!
Alejandro:  How long you been surfing?
Giulia:  I HAVE STARTED SURFING 7 YEARS AGO, BUT AT THE BEGINNING IT WAS JUST A COUPLE OF SURF CAMPS PER YEAR AND NO MORE. SINCE THREE YEARS I LIVE ABROAD
AND I CAN SAY "I DO SURF".
Alejandro:  How did you got into surfing? Any mentor?
Giulia:  I WAS SNOWBOARDING A LOT WHEN I STARTED SURFING, IT WAS FOR ME A GOOD ALTERNATIVE SPORT FOR THE SUMMER.
I DID A SURF CAMP IN CALIFORNIA, OCEANSIDE, AND, AFTER THAT, I HAD THE CHANCE OF SPENDING A YEAR STUDYING UNIVERSITY IN SPAIN, IN SAN SEBASTIAN, BASQUE
COUNTRY, AND WHICH PLACE IS BETTER THAN THAT ONE TO GET INTO SURFING! FROM THERE I HAVE NEVER STOPPED AND I FELL IN LOVE WITH THIS SPORT EVERY DAY
MORE AND MORE.
Alejandro:  Tell us about your surfboards and fins do you use?
Giulia:  I LIKE TO RIDE DIFFERENT BOARDS, DEPENDING FOR THE CONDITIONS!
AT HOME IN ITALY I LIKE LONGBOARDING WITH MY 9'0 INTI LONGBOARD CHERNOBYL SINGLE FIN, TRYING TO IMPROVE MY NOSERIDING. WHEN I TRAVEL I ALWAYS BRING A COUPLE OF BOARDS, ONE FOR SMALL AND MELLOW WAVES (PUKAS SAND BALL
5'10 SQUASH TAIL, SET UP THRUSTER WITH FCSII CARVER FINS MEDIUM) AND ONE FOR BIGGER BARRELING WAVES (PUKAS FOAM BALL 6'0 ROUND PIN TAIL, THAT SOMETIMES I
USE WITH THE SAME SET UP OF THE OTHER BOARD AND SOMETIMES I USED AS A QUAD TO HAVE MORE SPEED AND MORE GRIP ON THE FACE OF THE WAVE) AT HOME I HAVE OTHER TWO BOARDS THAT I HAVE BEEN USING A LOT AND THAT HAVE TRAVELLED WITH ME ALL
AROUND THE WORLD, ONE CUSTOM SHAPED IN BALI (5'10 WITH A SWALLOW DOUBLE DIAMOND TAIL FOR SMALL WAVES) AND THE OTHER IS MY BELOVED MORPH
SURFBOARD 6'2 THAT MY FRIEND AND SHAPER JUSTIN WOLCOTT SHAPED FOR ME FEW YEARS AGO.
Alejandro:  Tell us about your competition history an your future goals.
Giulia:  I HAVEN'T REALLY BEEN INTO SURFING COMPETITION. FOR ME SURFING IS A LIFESTYLE, A PHILOSOPHY OF LIFE. I SPEND MY LIFE COMPETING IN SNOWBOARD CROSS, I
HAVE TAKEN PART OF 3 UNIVERSIADES (I CLASSIFIED 6TH TWICE), EUROPA CUP, FEW WORLD CUP AND I WON THE ITALIAN CUP TWICE.  I STILL COUNT ON MY SPONSORS BUFF, SALICE AND CUSTOM-MADE SNOWBOARDS, THAT HAVE BEEN SUPPORTING ME SINCE YEARS. WHEN I STARTED SURFING I REALIZE I WANTED TO DO THIS SPORT JUST FOR MYSELF. IT'S A KIND OF THERAPY WHEN I AM IN A BAD MOOD OR I HAVE A LOW DAY. IT NEEDS SO MUCH CONCENTRATION THAT I DON'T HAVE TIME TO THINK ABOUT ANYTHING ELSE. I FEEL COMPLETELY INVOLVED IN NATURE, FOLLOWING THE TIDES AND THE MOVEMENTS OF
THE MOON, WITH MY FEET IN THE WATER, WAITING FOR THE SET, I FEEL IN A DEEP RELATIONSHIP WITH THE OCEAN. MY GOAL IS TO IMPROVE AND IMPROVE TO HAVE MUCH MORE FUN IN SURFING (I ALREADY HAVE A LOT BUT I WOULD LIKE TO CHARGE BIGGER WAVES AND DO SOME AERIALS AHAHAH). I HAVE RECENTLY BECOME AMBASSADOR FOR AN
AWESOME SURF BIKINIS BRAND, MI OLA (WWW.MIOLA.COM), AND WE DID AN AMAZING PHOTO SHOOTING IN AVELLANAS IN COSTA RICA. THE GIRLS OF MI OLA ARE SUPER NICE AND REALLY COOL AND THE BIKINIS STAY ON AND THEY ARE VERY FASHIONABLE. I HOPE TO KEEP STAYING IN MI OLA TEAM FOR A LONG TIME AND MAYBE GET NEW SPONSORS AND GO SHOOTING AROUND THE WORLD. IT WOULD BE A DREAM!
Alejandro:  Tell us about any extreme moment in surfing?
Giulia:  OMG! LAST YEAR I WENT TO MUNDAKA WITH SOME FRIENDS AND THE FIRST DAY WE WERE THERE WE GOT SO EXCITED THAT WE JUST FORGOT ABOUT EVERYTHING AND WANT TO GET IN. FOR THE ONES WHO DON'T KNOW MUNDAKA IS IN THE RIVERMOUTH, YOU HAVE TO JUMP FROM THE HARBOR AND THEN THERE IS A FREAKING CRAZY STRONG CURRENT THAT BRINGS YOU OUT THERE. THE LEFT IS SO LONG AND AMAZING, IT HAS BEEN HOME OF BILLABONG PRO FOR LOTS OF YEARS. PERFECT WAVE WITH PERFECT BARRELS.
ONCE REACHED THE LINE UP, I REALIZED IT WAS THE PEAK OF LOW TIDE, STRONG WIND, EVERYONE HAD GUNS (APART FROM ME AND FRIENDS THAT WHERE SURFING 5'10 FOOT
BOARDS) AND THE WAVES WERE MASSIVE, LIKE THREE METERS FAT LIPS BIG BARRELS WITH KNEE SHALLOW WATER IN THE FRONT. I TRIED TO PADDLE TO CATCH THEM BUT THEY WERE SO STEEP AND HOLLOW YOU WOULD HAVE TO TAKE OFF IN THE AIR! I TURNED AROUND AND AN OVER SET OF GIANT 4 METERS WAVES ARRIVED AND I THOUGHT "I WILL DIE"! SO SCARING! BUT I AM STILL ALIVE 🙂 I CAUGHT A SHOULDER AND I PADDLE BACK TO THE HARBOR ALMOST CRASHING ON THE ROCKS NOT TO ALLOW THE CURRENT TO BRING ME BACK TO THE LINE UP! I SURFED MUNDAKA AGAIN IN A NORMAL DAY: GROWING
TIDE, 5FT, PERFECT WAVES. IT WAS AMAZING! ONE OF THE BEST AND LONGEST WAVES I HAVE EVER SURFED 🙂
Alejandro:  Your favorite spots
Giulia:  SO MANY SPOTS I LOVE!!! EVERYTIME I SAY: "THIS IS MY FAVORITE" AHAHAH WELL OK, I HAVE TO CHOOSE. DEFINITELY PLAYA VENAO IN PANAMA, BEACH BREAK A-FRAME, BARRELING FAST WAVES THAT HOLDS UP BIG SWELLS, WARM WATER: PARADISE. PART OF MY HEART IS IN SIARGAO ISLAND, PHILIPPINES: APART FROM THE MAGICAL CLOUD9 (THAT IS A CRAZY WAVE) I LOVE THE LEFT REEF BREAKS OF CEMETERY, STIMPYS AND PILAR.
ALRIGHT, CAN I CHOOSE A COUPLE MORE? AHAH GREEN BALL IN BALI, HOSSEGOR IN FRANCE, ANGOURIE POINT IN AUSTRALIA, PLAYA GRANDE IN TAMARINDO, COSTA
RICA, MUNDAKA IN SPAIN. OK I HAVE TO STOP BECAUSE I HAVE JUST REALIZED THAT I LOVE ALL THE WAVES!
Alejandro:  Surfing tips you want to share.
Giulia:  I DON'T WANT TO SCARE ANYONE BUT OCEAN IS DANGEROUS AND WE ALWAYS HAVE TO RESPECT IT. ESPECIALLY IF YOU ARE A NOVICE FOR THIS SPORT, ALWAYS CHECK THE CONDITIONS BEFORE GOING IN AND ASK YOURSELF: WOULD I BE ABLE TO GO BACK TO THE BEACH FROM THE LINE UP IF I LOOSE THE BOARD? THAT'S A GOOD QUESTION CAUSE THE LEASH CAN BREAK AND WE ALWAYS HAVE TO THINK ABOUT EVERY POSSIBILITY.
RESPECT THE OTHER PEOPLE SURFING, THERE ARE RULES AS WHEN WE DRIVE A CAR AND THEY HAVE BEEN MADE TO PERMIT TO EVERYONE TO HAVE FUN AND CATCH WAVES
(EVEN IF SOMETIMES EVERYONE LOVES DOMINATE THE LINE UP AHAHAH) 🙂 GO TO THE RIGHT PLACE FOR YOUR LEVEL AND GO SHREDDING!!!!
Alejandro:  Any comment or advice for surfing community?
Giulia:  PLEASE RESPECT THE NATURE. WE ALL LOVE THE OCEAN AND THE BEACH AND WE DON'T WANT TO LIVE IN THE GARBAGE. WE LIKE THE WATER WITH ALL ITS BEINGS. WE
DON'T WANT TO SURF SURROUNDED BY PLASTIC, CANS OR CIGARETTES! GO PARTYING AT THE BEACH, DO BONFIRES, HAVE FUN, BUT ALWAYS BRING YOUR TRASH HOME! IT'S FROM THE SMALL BEHAVIOR OF EACH OF US THAT WE CAN MAKE THE DIFFERENCE. 🙂
https://avellanassurfphotos.com/