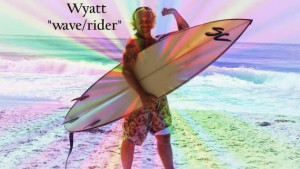 Alejandro:  Where you from?
Brian:  Toronto, ON, Canada – but spent half my life in California USA
Alejandro:   What you do for a living?
Brian:  Retired project manager as of 2011 due major health issues & having to undergo chemotherapy & 7 surgeries including a complete full titanium knee replacement.  I was told by specialists that I'd never surf again.  But I proved the doctors wrong lol.  So, NEVER EVER GIVE UP !!!
Alejandro: How long you been surfing?
Brian:  On & off for 42 Years
Alejandro:  How did you got into surfing?
Brian:  Hang'n out with my cool surfing friends in Santa Cruz, California in 1973.  It was all we did back then and party all nite on the beach till sunrise.
Alejandro:  What kind of fin do you use in your board?
Brian:  ZIGFIN http://www.zigfin.com from Australia Boards are custom made by Joe Aaron http://www.joemotion.com/ in Capistrano Beach CA, as well as some Santa Cruz boards as well… 11'-0" all the way down to 6'-0" etc.
Alejandro:  Tell us about any extreme moment in surfing?
Brian:  Coming face to face with a large great white shark in 1975 on the back line in CA.  That was more chilling than any wipe out of undertow although I wiped out a 1000 times, who hasn't.  A few times I almost didn't get up before the 2nd. wave hit.  Since then I have encountered several more great whites out there.  In South Africa I had a great white glide right under my board.  So I decided to do a 3 hour cage dive in Gaansbaai where we counted 18 individual great whites slamming & circling the cage.  It was a pure adrenaline rush & I recommend it to everyone.
Alejandro:   Your favorite spot?
Brian:  Muizenberg "Surfer's Corner South Africa & when there you have to visit Surf Emporium, my favorite surf school/shop. My "home break" is naturally and will always be Santa Cruz, CA. USA.
Alejandro:  Any comment or advice for surfing community?
Brian:  Respect the rules out there and the code of conduct & ethics! Take risks but if you're a novice know your limitations, stay STOKED & have fun.  Stay humble and learn from the pros' & locals. Give back, be proactive, organize and participate in beach clean ups and get involved with other programs to help our environment.  I have been privileged to have had the honour to act as official M/C for the last 3 years at Hopefest  http://hopefest.ca (raising money) for cancer children at Sick Kids Hospital at a massive outdoor music festival.  I have also been fortunate to be a volunteer for the past few years at Aloha Toronto in Canada. Where even the Pros' like Garrett McNamara & Izzy Paskowitz of Surfers Healing http://www.surfershealing.org/ etc. have flown in from as far away as Hawaii, California & Florida to give children affected by autism a magical experience on boards for a wonderful weekend every year.  Last year in South Africa I met big hearted William Leadbetter (pro surf instructor) he helped to organize a soup kitchen for the homeless as well as I had the privilege of working him and lovely Rene Thomas at a very dangerous township called Khayelitsha at an orphanage. There were 18 abandoned and abused young children there, most without even shoes & 2 with HIV. Collectively we provided shoes, clothing and even got many of them out on surfboards in loaned wetsuits… a simply brilliant time.  I am also involved with Caron Reycraft's "Water Dreams Costa Rica" nativosurf.com where a percentage of business profits go back in to sponsoring young local athletes (mainly surfers). Currently I'm working on a fundraiser for a movie in Conjunction with Dayan Productions Ltd. http://www.dayanproductions.com/ in Maidenhead UK.
Surfers Wyatt & Garrett Mc Namara
https://www.youtube.com/watch?v=FhKjMfS9mAE&authuser=0
Wyatt Buffey & Roxy Davis in Surfer Corner, South Africa
 Special Thanks To My Sponsors
 The Ones Who Have Inspired Me The Most ~ Jesus, Ann P. Buffey , Brian H. Buffey Stephen B. Buffey,Johnny B. Buffey ,William B. Buffey & Rene J. Thomas